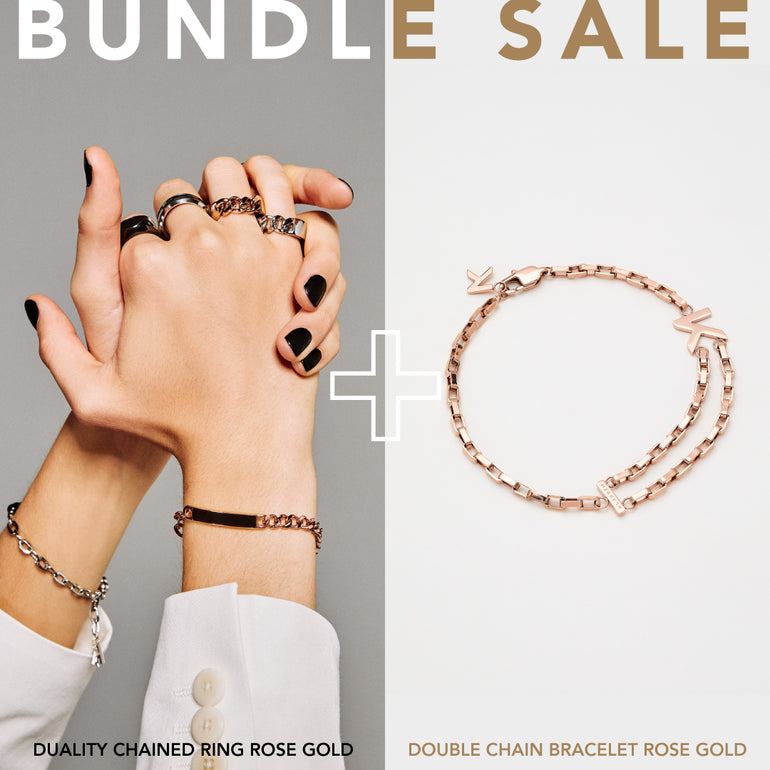 Duality Chained Ring Rose Gold+ Double Chain Bracelet Rose Gold
US$72
Regular price
US$103
off
Buy any 2 +J items or more and enjoy 30% off.
Description

Design Inspiration

Free Shipping Info
The Chained Ring
The Chained Ring is intricately designed to be composed of pure, solid metal, while breaking in the middle to feature chain-like metal. Its unconventional design defies boundaries.

Material: Stainless Steel

The Double Chain Bracelet

The Double Chain bracelet features a simple design, yet stands out with the unconventional double chain design.

Material: Stainless Steel


The Duality +J collection is a symbol of who we are as human beings. The out of the box, unconventional and paradoxical features of each piece is designed to be impactful and worn with a purpose.


Hong Kong 2-3 business days
Japan 5-7 business days
Asia 7-14 business days
Europe 7-21 business days
Oceania 7-14 business days
United States 7-14 business days
Others 7-28 business days
Duality Chained Ring Rose Gold+ Double Chain Bracelet Rose Gold
$72 USD
Regular price
$103 USD
Get a unique birthday card!